Arizona Aikido
Coming Up ...
23 November 2019
Training - November 17 - 23, 2019
Kata dori (ikkyo, nikyo) Kokyunage, kata dori variations, with munetsuki and tanto tsuki. N.B. Kyu Tests scheduled this week! Saturday - Weapon Arts
Sunday - Children's Aikido

[
More Upcoming Events
]
What's New
2 November 2019
Annual Ikeda Sensei Seminar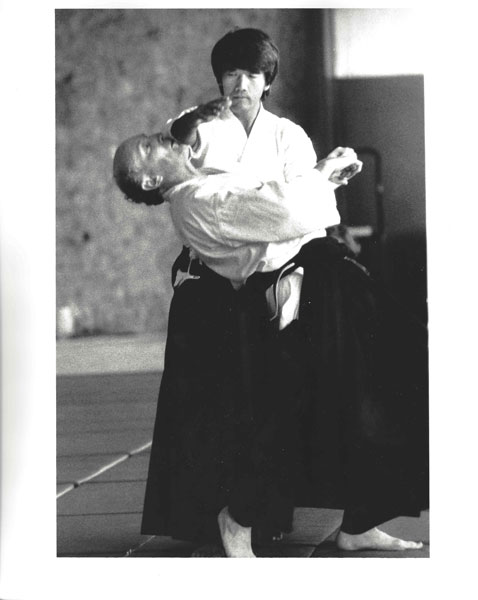 Hiroshi Ikeda Shihan has been a strong supporter of Arizona Aikido for more than half of our 50 years of existence! He returns to Arizona Agatsu Dojo December 6-8, 2019! He is seen in this photo taken at the Prescott Camp in September 1991, 28 years ago. Don Crawford Sensei is taking ukemi in the photo. Click on the photo for a flier. Please don't miss this opportunity to train with Ikeda Sensei. The seminar will be held at Arizona Aikido's Agatsu Dojo, 939 W. Camelback Rd., Phoenix, AZ 85013. Access to the dojo is easy via the light rail system. Exit at the 7th Avenue Station and the dojo is just a short walk to the west. The light rail is easily accessible from Phoenix Sky Harbor Airport via the Sky Train. There is plenty of parking at the dojo, as well. The dojo is immediately east of the 11th Avenue traffic light and bus stop on the south side of Camelback Road. December should be beautiful in Phoenix! If you'd like to check it, here's the Phoenix weather. You can register for the seminar and pay online: Cost for the full seminar is $175. You can choose to attend individual sessions for $45 each.The session schedule is:
Friday evening, December 6, 7:00 p.m. to 9:00 p.m.
Saturday morning, December 7, 10:00 a.m. to noon
Saturday afternoon, December 7, 3:00 p.m. to 5:00 p.m.
Sunday morning, December 8, 10:00 a.m. to noon.
[
More
]