Arizona Aikido
Coming Up ...
23 September 2017
Training - September 19-23, 2017
Yokomenuchi ikkyo, nikyo, sankyo and yonkyo. Koshinage from shomenuchi, yokomenuchi, katate dori and munetsuki.

[
More Upcoming Events
]
What's New
18 September 2017
Fall Mountain Camp 34 is in the books!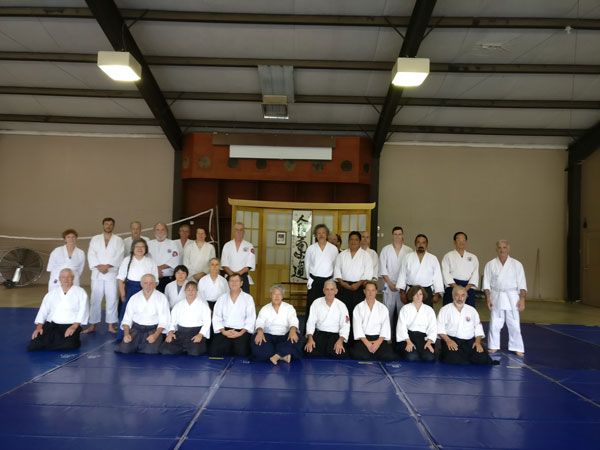 Arizona Aikido's Fall Mountain Camp 2017 is in the books! Thanks to Hiroshi Ikeda Shihan for a wonderful camp! Thanks, too, to all who attended! We began going to an annual camp in Prescott in 1984 after the death of our dojo founder, Jon Mamoru Takagi Sensei. Our then new Chief Instructor, Tsuneji Sakakibara Sensei, felt it was important for us to get away from the Valley and reconnect with our roots, to begin our recovery from the loss of our previous leader. Through the years, we have had the opportunity to train with many different senior instructors. Our first camp was focused only on local instructors – Sakakibara Sensei, Ralph Pfleger (Rafa Mithuna) Sensei, Tom Haines Sensei, Joel Levert Sensei, Ben Mancini Sensei, and Gene Nelson Sensei. In 1985 we were able to host Fumio Toyoda Sensei from Chicago. He and Takagi Sensei had formed the Aikido Association of America and we were a part of that organization. Over the next year, Sakakibara Sensei decided that, with the consent of the dojo membership, we should return to a connection with Hombu Dojo in Japan. That was accomplished by affiliating with the United States Aikido Federation, headed in the Western Region by Kazuo Chiba Sensei who had also taken the name "Taiwa Kigen" Chiba when he became a Buddhist priest. That year, 1986, we had planned to have Frank McGouirk Sensei as our featured instructor. Because of a bit of poor planning on our part, our sister dojo in Tucson had planned to feature Frank Doran Sensei for a seminar on the same weekend. Realizing that trying to have both seminars would be a disaster for both of us, we asked the two Franks if they would mind doing a joint seminar in Prescott. That was acceptable to them, so that is what we did, held the first "Frank & Frank" Seminar. Over the years we know we've had other well-known sensei teach at Fall Mountain Camp – T.K. Chiba Sensei, Bruce Bookman Sensei, Coryl Crane Sensei, JoAnn Veneziano Sensei, Glenn Brooks Sensei. Within a few of years our beginning, we settled at Emmanuel Pines Camp with Hiroshi Ikeda Sensei as our featured instructor. Each year we held a Saturday night banquet at the Hotel St. Michael, with music and dancing. We evolved from Fall Mountain Camp to Fall Bridge Camp and added other instructors – 2009, for example, featured Mary Heiny Sensei, Tsuneji Sakakabara Sensei, Kirk Fowler Sensei, and Judith Robinson Sensei, in addition to Ikeda Sensei. In 2010 Mary Heiny Sensei returned, as did Sakakibara Sensei, along with Lia Suzuki Sensei, and Sifu Roger Fenneman. In 2012 George Ledyard Sensei joined us along with the instructors from 2011. In 2014 we returned to single-instructor format for camp, still featuring Ikeda Sensei. In 2015 we moved our Saturday night banquet from the Hotel St. Michael to a catered dinner in the dojo at Emmanuel Pines Camp. We did the same in 2016, but in 2017 we moved the banquet back into Prescott at the Gurley Street Grill. That brings us to the conclusion of our Fall Mountain Camp. We have decided that this camp no longer works for us in the manner we had envisioned, so 2017 was our last camp! We plan to continue our very long relationship with Hiroshi Ikeda Sensei, who will be back with us in December 2018 in Phoenix. Please watch for details of this seminar. Thanks to everyone who has supported us over the years as we trained each September in Prescott! We hope you'll continue to support our dojo as we move forward!

[
More
]